(Using Internet Explorer? Try dragging the pictures of Dre & Big Boi from Outkast around with the mouse cursor. You don't need tickets for this concert dance page! Enjoy the animated pictures of Outkast!)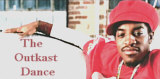 The Outkast Dance Page! Check it out! Be sure to scroll down
| | | |
| --- | --- | --- |
| | Check out our dance! | |





It's so simple dun
Right this way folks







Hey Ya!





Like the way we move?





Just move those hips baby!




Oh Ya! Check for our concert tour!

We just be so fresh and so clean


Looking good!



Keep it goin'







This one might take you about a minute to learn...







...and finish with a spin

Now just walk with it
Check out my favorite links!

Look below!
Check out the Outkas Picture Cube!
---
View More Fun Pages at TVdance.com
---