(Using Internet Explorer? Try dragging the Drew & friends around the screen with the mouse cursor. Fun!)




It's The Drew Carey Dance!




What Do Ya Think?

Gee, Drew Sure Can Dance!
Thanks Ladies


The Show Must Go On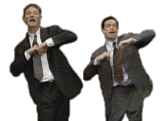 He's A Dancing Machine!
Comedian By Day, Dancer By Night!

That's What You Think!




Time For Some Real Dancing!




This Is How It's Done!
| | | |
| --- | --- | --- |
| | Thanks For Stopping By! | |
---
More TV & Movie Dances @ TVdance.com
---
This page is in no way affiliated with ABC. All images have been used strictly for entertaiment. Tune into ABC to catch this wonderful show. For more information about the Drew Carey Show, go to ABC's web site. https://abc.go.com/